Are Flashy Colors On Your iPhone Hijacking Your Attention?
Take the Gray Phone Challenge To Find Out
---
Are we becoming addicted to our phones through clever designs and behavioral experiments? Technology critics and tech industry defectors argue that smartphones are compelling more and more of our attention, drawing us away from meaningful relationships and focusing our time on unhealthy thoughts and behaviors. Is this true?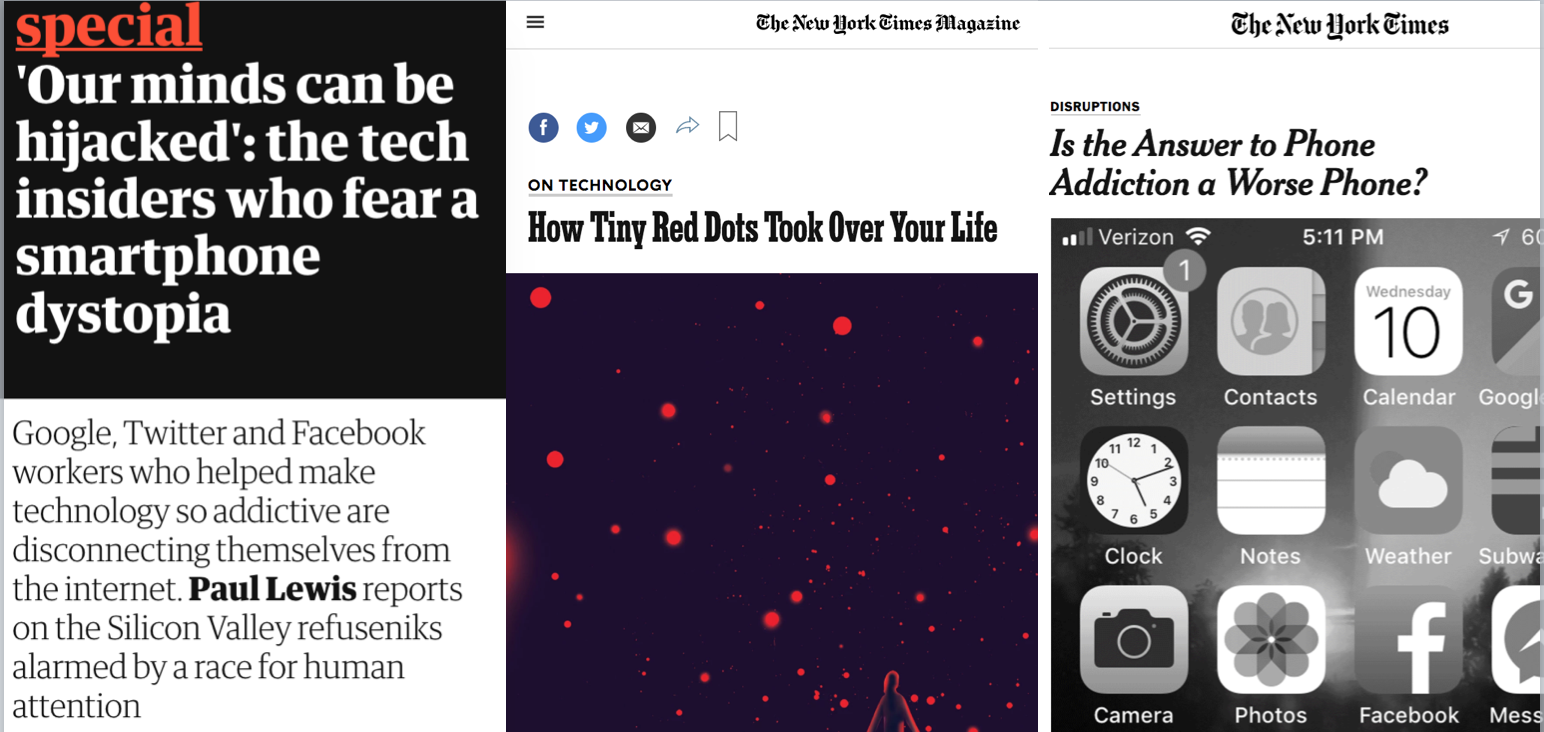 Since tech companies focus on maximizing revenue, the argument goes, these perverse incentives create an endless land-grab on human attention. These critics claim that companies have optimized their designs through behavioral experiments at an unprecedented scale, hijacking our time to a pathological level.
what evidence do we have that our phones are commanding more of our time, and that flashy, colorful designs are to blame? Take the Gray Phone Challenge to find out.
Is this true? Setting aside over-simplistic claims that technology drives us apart or that phone use is harmful for everyone, what evidence do we have that our phones are commanding more of our time, and that flashy, colorful designs are to blame? While design changes in a single app might sometimes attract more attention to that app on average across everyone, we lack evidence on two central questions:
Is the persuasive design of mobile apps collectively increasing our phone time, or are apps just endlessly competing with each other for a fixed amount of our daily attention?
Does this alleged phone addiction affect everyone, or just some people?
In his book and public talks, Tristan Harris has proposed an elegant idea that that we can use to find out. Using a phone's accessibility features, it's possible to turn a phone screen to grayscale, neutralizing one of the most common ways that companies attract attention: color. Because a gray phone has none of the bright colors that people worry about, we can use it to discover how colorful design affects our overall screen time.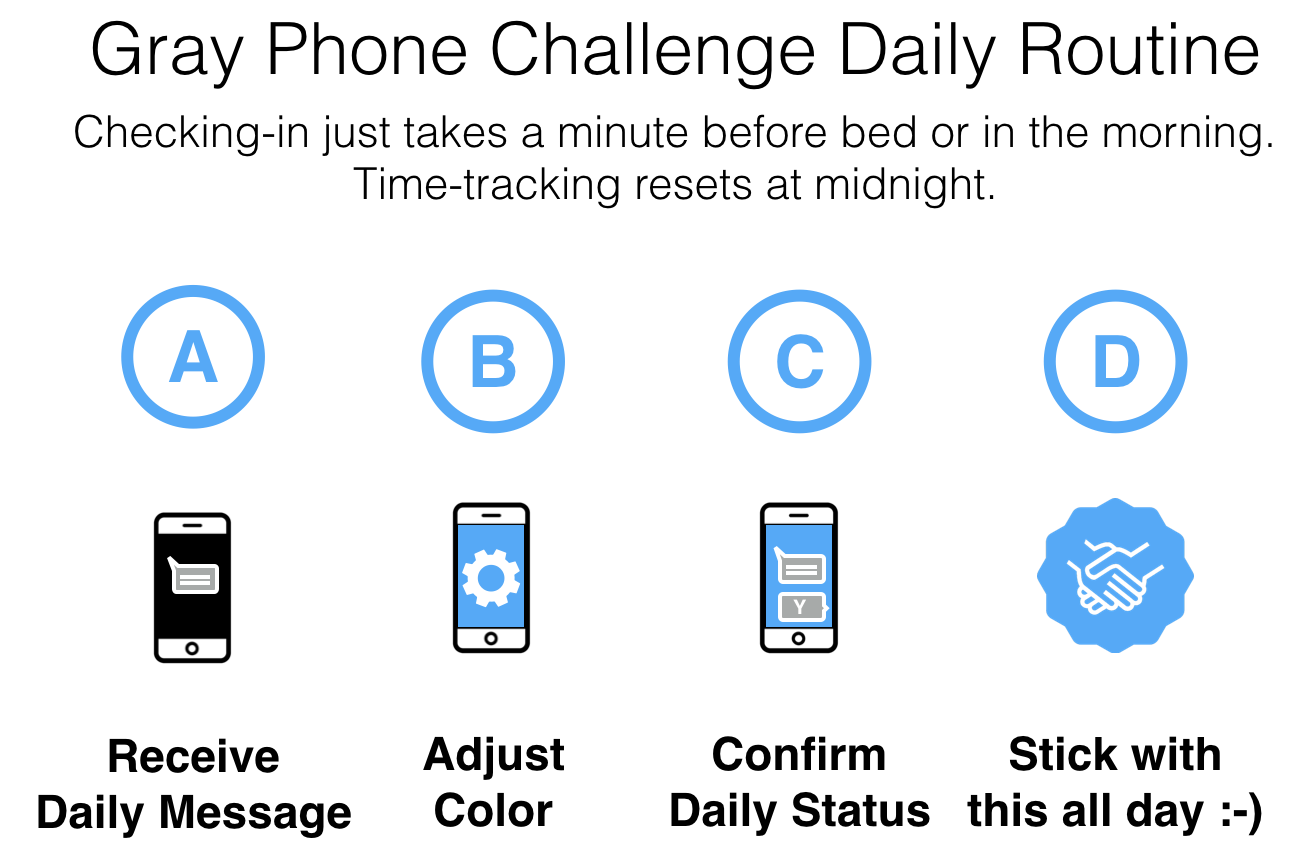 Taking the Gray Phone Challenge
To take the Gray Phone Challenge, you will set your entire iPhone screen to color or grayscale on different days– coordinated by our research software- and use an app to track your phone time on those days. We'll then ask you, with your consent, to send us the amount of time you spent on your phone during the challenge.
Here's how to join the 36-day challenge:
Start with a short survey about how you use your iPhone (write us for Android tips)
Choose how you prefer to keep contact with us: text or email
Install and set up the Moment app (we'll give you instructions)
Every day, we'll send you a message prompting you to turn your screen gray or colored
Every week, we'll ask you to use Moment to send us an update on how much screen time you spent per day (we only ask for data on the time you spend on your screen overall, never what you do on your phone)
At the end of the study, we send you your results

What You Learn from the Gray Phone Challenge
After 36 days, we will analyze your screen time information to give you personalized results on the effect of colorful design on your phone usage. We will also analyze the results for everyone.

Your personal results will look something like these two charts, which illustrate the probability that your daily screen time will be at least so many minutes on average, for a full-color screen compared to a gray screen. If the difference is great, the two probability curves will be far from each other, like the chart on the left. If the difference is too small to observe easily, then the probability curves will be much closer.
What Everyone Learns from the Gray Phone Challenge
As researchers, we are interested in whether colorful screens cause everyone to spend more time on our phones, whether it just happens with some people, and whether any effects are consequential in people's lives. As part of our research, we plan to combine everyone's results to ask these questions and share publicly what we find.
Research Ethics
This research has been reviewed and approved by the Princeton University ethics board. We only include people in this study with your consent, it is always your choice to send or not send us data, and you can stop participating at any time. More information on research ethics are available in the consent form that everyone receives before starting the Gray Phone Challenge.
Image credits: Survey by Michael Thompson, Smartphone by Lee Mette, Calendar by Vectors Market, Email data by Iconstock, Agreement by agreement by Aneeque Ahmed from the Noun Project